Back to Musings and Other Quandaries
A sunset a day
Sometimes we need to take a moment and do nothing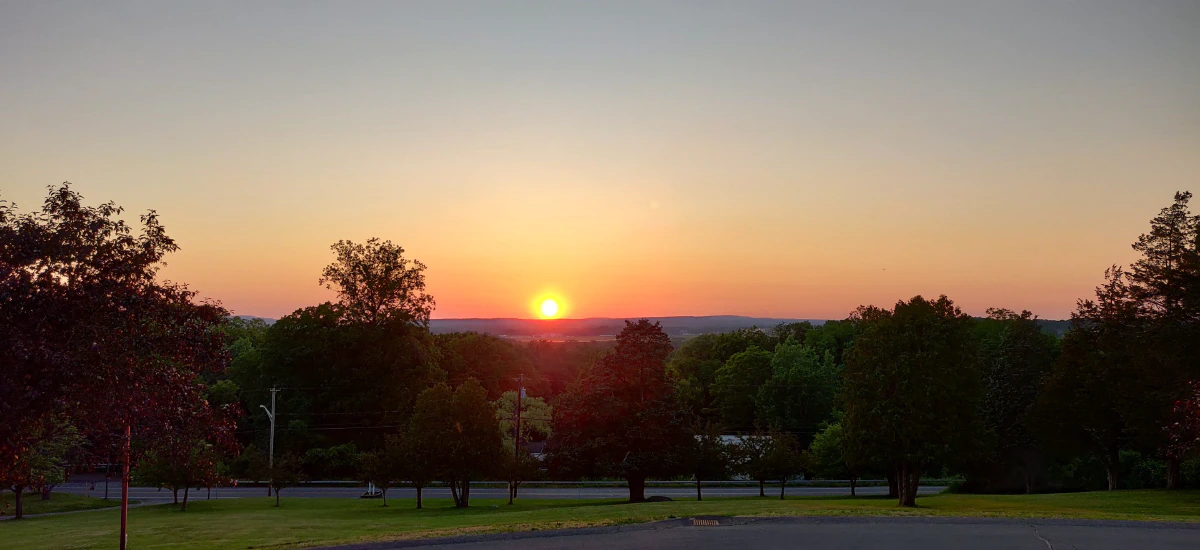 A month ago…
I laid on the imperceptibly damp grass, leaning back and staring across the distant valley that sloped gently upwards to the mountainside. The cool breeze of the evening was a much-appreciated reprieve from the choking heat of the day. I didn't pay much attention to the obnoxiously quiet buzzing of the bugs, which was strange considering how I reacted to even the smallest changes of the wind, thinking of mosquitoes.
In the backdrop of my inner monologue, the sky gradually lit up, as if the atmosphere transformed into a golden orange funeral pyre where we celebrated the life of the day that was lived and welcomed the impending night. The sun had noticeably shifted since the last time. Just a couple of weeks ago the light licked the tops of the trees at the center of the mountainside but instead gave way to the passage of time.
It's funny how things change so suddenly, yet so slowly. One moment you are daydreaming of life beyond the impossibly boring algebra assignments and the next you are being sent off to college with everything to your name shoved into boxes that are bursting at the seams. Well, I wasn't there yet. Still another four weeks left before my life as I knew it was over. I was nervous and excited, but I didn't want to let go of what I had going. I finally felt like I reached inner peace. The chaos of high school was long over with and I finally felt comfortable with, actually, everything. That would soon change. I knew that, but I couldn't comprehend the fact that this was actually happening. What I talked and dreamed about for so long was around the corner.
While I worried about college, the purple hue of dusk slowly crept across the sky until the crickets and forest sprang to life. Soon enough, I put away all my belongings into my cinch bag and biked home.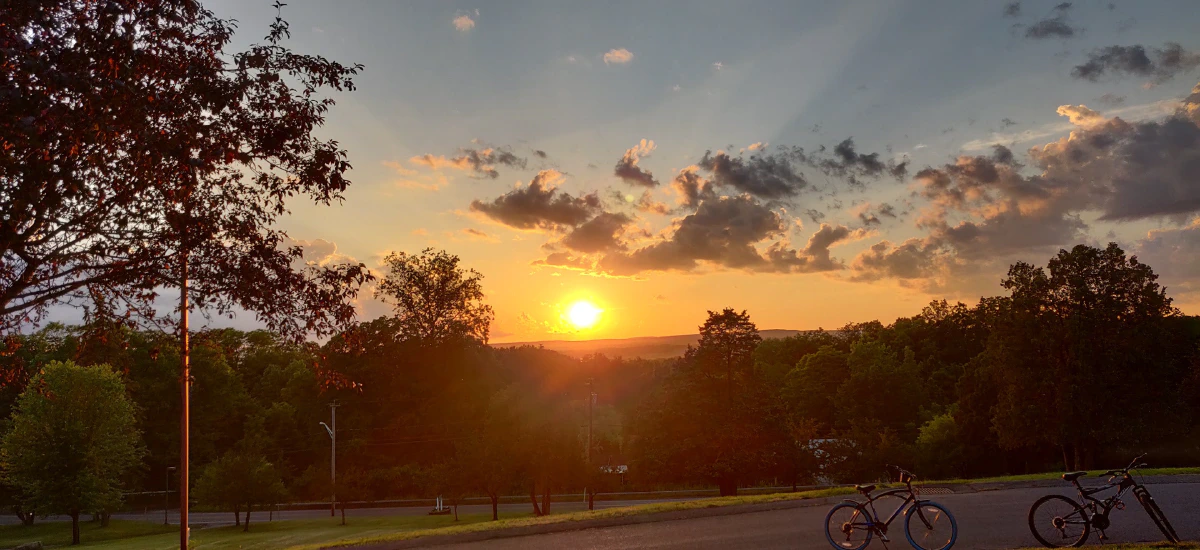 I'm not sure how I ended up biking every evening to the top of this hill. It is a mystery how I even found this gem of a place, considering I had to be at the right place at the right time. The first time I saw the sunset, I was astonished. No, astonished doesn't even begin to describe my love for this place: flabbergasted, amazed, in awe by the beauty. How could something like this have existed in my town all these years, and yet nobody knew about it? Everything about this inconspicuous hill was perfect, and I automatically knew I was going to come back here every day.
Did I end up going every day? Definitely not, but I tried my best. No matter how many times I went, it was like re-experiencing it for the first time. I noticed little differences, like how the sunset varied in time by a few minutes each day, or the little woodpeckers' nest that was in one of the trees, and occasionally the few others that would come and watch. I was so inspired that I even tried drawing a tree, but I think I'll save myself the embarrassment of uploading that. Regardless of how mediocre my art skills are, I was content doing just about anything there. Sometimes I would stay for a full half-hour just watching.
Soon after discovering the hill, I started going with one of my best friends who lived right across. We would talk about anything and everything. Talking about philosophy, good and/or dubious ethics, college, the meaning of life, math, science, frustrations, and our hopes and dreams. Simply talking was some of the most fun I had all summer.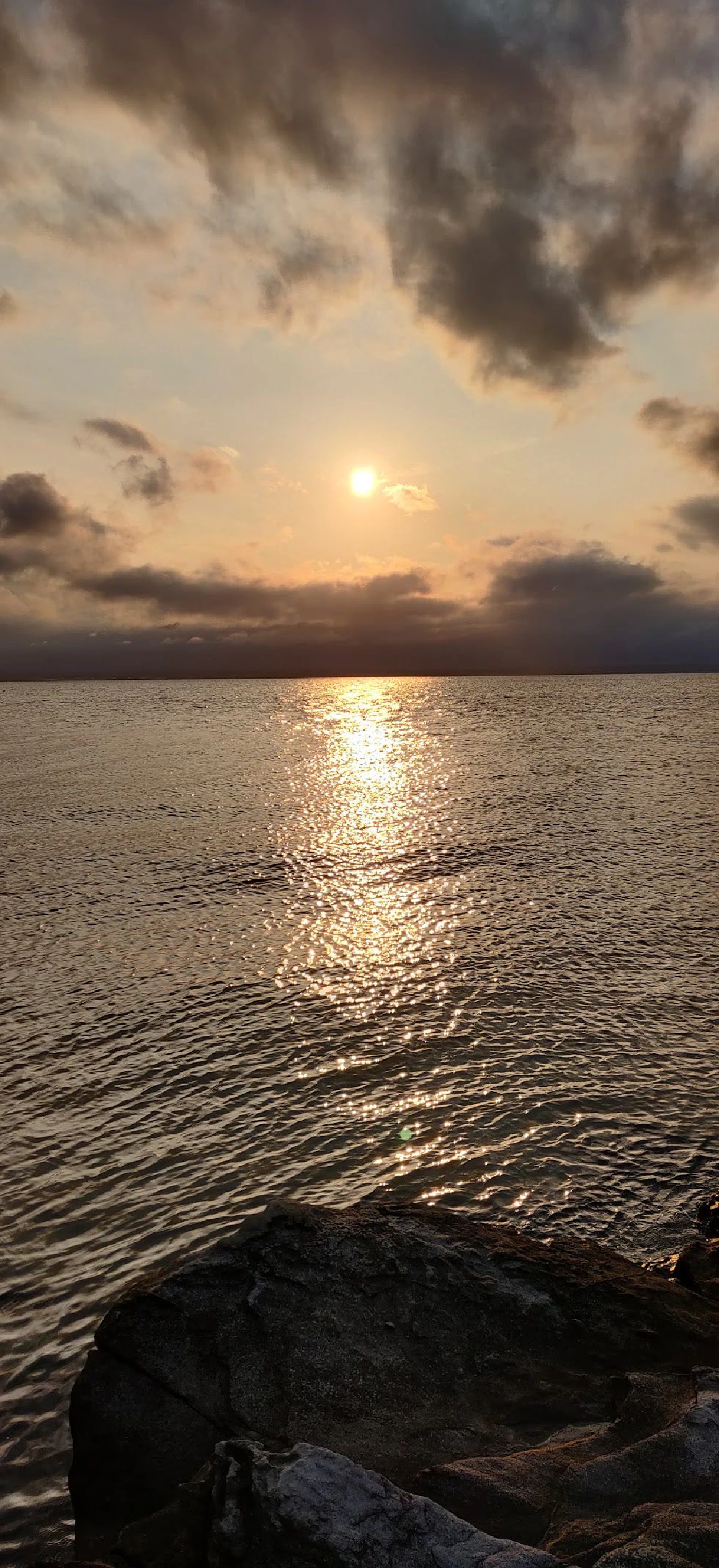 What started as sunsets at that hill in my town became what I call sunsetting at any place I went. I would always be on the lookout for new spots to take a moment out of my day and just watch.
My Last Sunset
I imagined the most challenging changes in college would be what most people expect, like living in a dorm, eating dining hall food, intense classes, but like everything else, it only takes time. Already I'm forgetting what life was like beforehand, merely a distant dream from a different lifetime. But every morning I woke up, something felt off… missing in a way. I wasn't doing anything fundamentally different. I still had the same exact morning routine, more or less the same amount of homework, and if anything, I was having a lot of fun hitting the rock climbing gym. Was I stressed? Yeah a little, but I knew it wasn't that. Was I homesick? Not really, even though I do miss home. I mentally crossed off one concern after another. Nope. Nope. Maybe? Not so much.
Up until a few days ago, I realized what I missed most was the mundane things, like mowing the lawn on weekends, walking home from school during the fall, sitting in the uncomfortable chairs and desks in a high school classroom, the physics tests that always drove me insane, and especially going sunsetting. The few moments we are consciously aware that we are truly alive and breathing, enjoying our existence and the beauty of nature and the world, are the ones that vanish the quickest if we forget, like I did. Sunsetting doesn't only mean spending time in nature but taking the time to connect with yourself and the world around you in whatever way you enjoy. The question is, what is sunsetting in your life?